Posted by Dee Wallace on July 3, 2013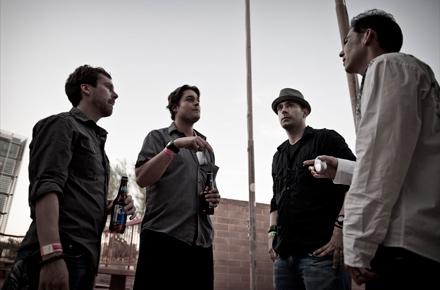 Jackson Difé is a four-piece rock band based out of Arizona, featuring singer-songwriter Chris DeGreen, guitarist Adam Price, drummer Bradley Ekstrom and bassist Tim Caggiano. The band has been performing at venues around the Valley since its formation in 2009 and released its debut self-titled album in March.
DeGreen first met Ekstrom after he responded to a Craigslist ad to buy studio monitors. At the time, DeGreen was working on a music project called Some Kind of Frequency with producer DJ Chima and Ekstrom was playing in the band East Delta, with bassist Caggiano. DeGreen ended up joining that band as lead vocalist, until the three decided to start fresh with a different name and new material. After placing another ad on Craigslist, the band found guitarist Price.
"The first time the four of us got together to play, I think everyone in the room knew we had something special," says DeGreen.
The eight-track debut is a blend of rock and blues that feels modern, although clearly inspired by classics. Band members seem to play with a comfortable ease, speaking fluently in the language of music and telling the story of their protagonist — Jackson Difé.
The Spec had the opportunity to interview frontman DeGreen in advance of the band's upcoming show at Last Exit Live on July 9 with Mill's End and Objective Perspective.
The Spec: How long have you been singing and writing your own music? How do you approach songwriting?
Chris DeGreen: I've been singing and playing guitar since I was a kid. I started doing acoustic open mics in my early 20s at places like Joe's Grotto and The Dubliner. I've always been drawn to storytelling elements in my lyrics and poetry. I also like the idea of doing things lyrically that have multiple meanings, and can be interpreted by the listener to fit the theme of a story, but also to themselves personally. For me, this drives home the idea that all of human experiences are universal.
TS: About how long did take to write and record your debut album? Were there any major ups or downs in the process?
CD: We had been developing and refining the material in our debut album, both in rehearsal and at live shows, for about a year previous to us stepping into the studio. By that time we were very eager, and very prepared to record. We hooked up with the talented Jalipaz Nelson and Dan Sommers at Audioconfusion Studio, and we knocked out all eight tracks in two days.
TS: Would you say that the album carries a message or theme? If so, what?
CD: All of the songs were written by (or, in the voice of) the fictional character Jackson Difé. Jackson Difé has his own saga that will be told one day through a number of different mediums. For now, it's all about the music. In one form or another, each song is a depiction or byproduct of an actual event or experience of this character.
TS: From where do you draw most of your inspiration?
CD: We all come from different backgrounds musically, but we all strive to make something special, and of true quality.
TS: Your music is a lot of rock and a little bit of blues, who are some of your favorite musicians and/or which artists have inspired your style the most?
CD: There is definitely a long list of influences to our music including old blues, classic jazz, classic rock, alternative-rock, as well as hip-hop.
TS: Can you explain to readers who/what Jackson Difé represents and how it relates to the band's music?
CD: Jackson Difé's character represents an internal and external struggle between good and evil. This struggle provides a lot of energy when it comes to writing and performing.
TS: Who wrote the "story" of Jackson Difé and is any of it based on reality?
CD: I've written the "story" of Jackson Difé, mostly in short story form. Difé was born in New Orleans but was raised here in Arizona. He is named after Andrew Jackson, seventh president and general at the Battle of New Orleans. Difé is a Cajon-Creole word meaning "Fire!" I've always been fascinated by the idea of telling a story in with a classic "hero's journey" architecture where the main character was a musician. As the "hero" progresses through his story, we would get to see the parallel of his struggle in his art form. For me personally, I have always enjoyed the experience of scratching at the surface of a piece of music, only to find more layers of how it can be interpreted lyrically, historically, or as a small part of a much bigger story. This is what we are trying to accomplish.
TS: In Difé's story, his mission goes from violence to music — what is your mission in making music? Or, what do you hope listeners take from your work?
CD: The music exists to stand by itself, and deliver a great musical experience. For those who want to dig for more…they are in store for an adventure.v
TS: What are your favorite tracks on the album…Lyrically? Instrumentally? To play live?
CD: "Day before I Died" is maybe one of the more epic cuts on the album. By "epic" I mean it has a solid three acts, and really takes us on a journey when we play it live. It also details a near-death experience Difé had that changed the course of his life.
TS: You've been performing around the Valley for years, any memorable live moments worth sharing?
CD: Performing at the Marquee Theatre for a local music showcase was definitely a memorable experience. We've all seen many big acts/shows there, and it was a great feeling to be on that stage.
TS: Is there anything you would like our readers to know about the band, your music, or upcoming plans or projects?
CD: Next show is Tuesday, July 9 at Last Exit Live with Mill's End and Objective Perspective. The debut Jackson Difé album is available on Amazon and iTunes.
---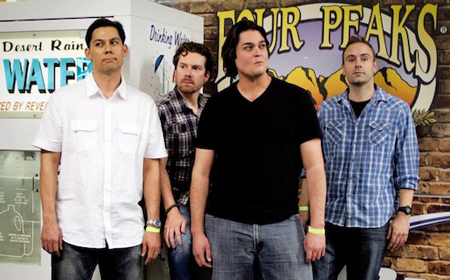 By Phoenix New Times on July 8, 2013
Jackson Difé -- named for the main character of their songs, surprisingly enough -- plays riff-y, reflective rock that might remind you of the parts of the late-'90s post-grunge era you liked -- the appealing, straightforward frustration that launched a million Rob Thomas singles, the not-quite-bluesy not-quite-breakdown in "Left Over Drive," even the Pearl-Jammy way in which some songs seem to terminate, having exhausted the possibility of actual lyrics, in an appropriate-sounding yowl.
Rock history is punctuated by movements that wore out their welcome not because they were never interesting, but because repetition and the calculated hangers-on wrung all the interesting out of them. Jackson Difé finds what was admirable in the heavy and jammy pop-rocks of the '90s and pulls it together into something novel and interesting.
---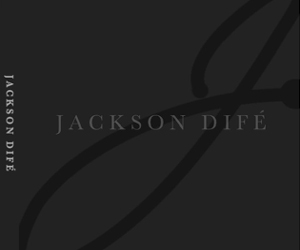 Posted by Yab Yum on August 14, 2013
The earthy blues rock of Jackson Difé (pronounced dee-fay) heard on their self-titled debut album makes for a great summer listen. Think road trips and backyard barbecues. Songs like "On My Way" and "The Wish You Well" show the band's more mellow, indie-rocking nature without losing that bluesy backbone that defines Jackson Difé. Singer and songwriter for the band, Chris DeGreen, is well met by the solid musicianship of his bandmates: Bradley Ekstrom, guitarist Adam Price, and bassist Tim Caggiano. The album tells a dark tale so you should invest a few listens to get the whole story (or read the back story on their website). The band had been slated to perform at the Benefit for Mr. Dan Somers, who co-produced the band's self-titled debut, but it looks like a sudden relocation of singer Chris DeGreen might take the group off the AZ tour circuit for the time being. The debut from Jackson Difé is available for streaming and purchase here.